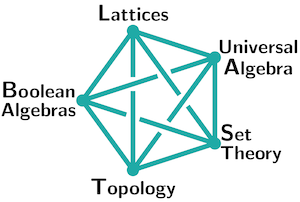 Schedule (check the webpage in case of minor changes)
The talks are held in the Beckman Hall BK 104 and in BK 102.
Registration is in BK 104. Coffee and snacks are available there as well.
Invited and tutorial talks are 50-55 minutes with 5-10 minute turnaround.
Contributed talks are 25 minutes (including question time) with 5 minute turnaround.
For contributed talks, Session A is in BK 104 and Session B is in BK 102.
All times in
Pacific Daylight
Time (UTC-7)

Monday
August 8
Session A | Session B

Tuesday
August 9
Session A | Session B

Wednesday
August 10
Session A | Session B

Thursday
August 11
Session A | Session B

Friday
August 12
Session A | Session B

830 - 855

Registration/Coffee

Coffee

Coffee

Coffee

Coffee

900 - 1000

1000 - 1030

Coffee

Coffee

Coffee

Coffee

Coffee

1030 - 1055

1100 - 1125

1130 - 1200

1200 - 1225

1230 - 200

Lunch time

Lunch time

Conference Picture

Lunch time

Lunch time

200 - 230

230 - 255

Afternoon outing and
conference dinner
at Heisler Park
Laguna Beach

Beckman Hall
pick-up 2:30 pm

ALO hotel
pick-up 3:00 pm

300 - 325

330 - 400

Coffee

Coffee

Coffee

400 - 425

430 - 530

530 - 830

Reception in the
Faculty Athenaeum